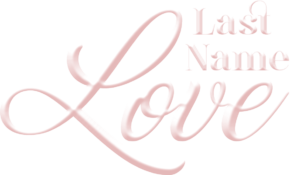 Stay Tuned for TV's Loveliest Reality Show!
Submit to possibly appear on an upcoming episode.
Apply as an STT crew member for this production.
Contacts for media and marketing inquiries.
Get ready to experience the most electrifying, love-filled reality show of the year! Last Name Love is set to bring you a thrilling rollercoaster ride of romance, drama, and unforgettable moments that will leave you craving for more. Don't miss out on your chance to be a part of this captivating journey!
By signing up for our exclusive mailing list, you'll be among the first to receive updates, sneak peeks, and behind-the-scenes insights. Get access to exclusive interviews with the contestants, never-before-seen footage, and exciting announcements about the show's premiere.
But that's not all! As a valued member of our mailing list, you'll also have a chance to participate in exciting contests, win exclusive merchandise, and even attend special live events. Plus, you'll have a direct line to share your thoughts, opinions, and fan theories with fellow Last Name Love enthusiasts.
Don't let this once-in-a-lifetime opportunity slip away! Fill out the form below with your name, email address, and phone number to join our mailing list. Get ready to immerse yourself in the world of Last Name Love and be part of the ultimate reality TV experience! Together, we'll make this summer sizzle with love and excitement.